How to Transfer Data to a New iPad via Itunes (the easiest way)
By Sky The Tech Guy, Last update: June 1, 2020
Did you buy a new iPad and wants to transfer all your files from your old iPad to the new one? There is an easy way of how to transfer old data to new iPad without breaking a sweat.
You can transfer data through iTunes backup file or iCloud backup file that you have saved. Follow and read this post to learn how to transfer data to new iPad in no time!
How to transfer from old iPad to new? Keep reading!
How To Transfer files from older iPad to a newer one via iTunes:
Apple devices are just simply the same with each other – in terms of backup files. The only thing that varies them from each other is their name, sizes, and other features.
But if you talk about saving backup files, usually they have the common iTunes or iCloud backup file. For this method, we will use iTunes backup file. This is of course if you used iTunes backup to save your data.
Step 1: Plug in your old iPad into your computer (Mac or PC).
Step 2: Go to your iTunes and open it.
Step 3: On the tab above, click the iPad icon on it.
Step 4: You will be navigated to a new interface, and from there, you will be given an option to back up your data. Under Manually Back Up and Restore, simply tap Back Up Now. By then, the backing up process will begin. Wait for a moment for the process to finish and be completed.
Step 5: Once the process is done, you can now disconnect your old iPad from the computer.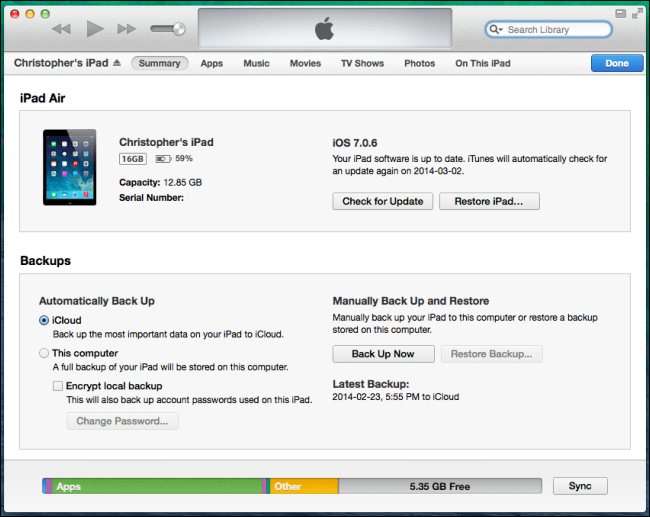 Step 6: This time, you are now ready to transfer data from old iPad to new iPad. Connect your new iPad to the computer to that very same computer you used earlier to back up your files.
Step 7: The same with the previous process, go to your iTunes and open it, then click the iPad icon from the top bar.
Step 8: Two options will be shown, to set up your new iPad or to restore the backup file that was saved. To restore the backup file, simply tap 'Restore from this backup'.
Step 9: If there are several backup files listed from the choices, just find the ones that are yours and click it.
Step 10: Then, click Continue. iTunes will then begin restoring your backup files to your new iPad. Depending on the size of the file that is going to get restored, chances are this process will take a short while. For this, you have to wait patiently.
Step 11: Once the restoration process is done, then the screen will a pop-up message saying 'you're done!'. You can then just tap Continue then just follow the instructions provided by the system to set up your new iPad.